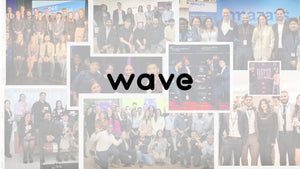 About Wave
Welcome to Wave! We are your reliable partner in the world of digital business card solutions, and we understand the importance of making a good first impression. We work hard to ensure that your introduction is unforgettable. Our journey began with a simple yet powerful vision: to transform traditional paper business cards into exceptional digital identities.

Our platform is designed to make it easy for you to create, customize, and share your digital business card across any device, at any time and from any location. But that's not all. We strongly believe in creating authentic connections, which is why we have created our digital business cards with great attention to detail to accurately represent your brand's essence and foster genuine relationships. By combining modern design with intuitive technology, we empower you and your business to make lasting impressions.

Our philosophy is based on sustainability, which means we are not only reducing physical waste, but also striving to create a digital environment where networking is easy, meaningful, and environmentally friendly. Our highly skilled team of designers and developers work together to revolutionize the way people connect with each other in the digital era.

Join us in making your professional interactions innovative, impressive, and instantaneous. Welcome to the future of networking.
Wave Co-founders
Meet the innovative minds behind Wave - George and Max. United by a shared vision of revolutionizing professional networking, they embarked on a journey to create a platform where digital identities are not only a reality but a standard for business interactions. Their collaboration has not only given birth to Wave but has built it into a platform trusted by professionals globally. Together, they continue to evolve and adapt to the needs of modern professionals, embodying a culture of continual learning and innovation at Wave.
George El-Hage
George has extensive experience in sales, marketing, and growth strategies. He possesses a unique combination of creative and strategic thinking skills. His vision for Wave's digital platform resulted in an intuitive design and user-friendly experience for its users.
Connect on LinkedIn
Max-Antoine Clement
Max is a skilled software developer and project manager who plays a key role in driving the technical and operational strength of Wave. He has a talent for identifying technological opportunities while prioritizing sustainable practices, which helps Wave stay ahead in digital networking technology.
Connect on LinkedIn
Learn more about Wave: Our Podcast Features
Discover more about Wave through various podcast features where our team delves into discussions about our mission, values, and the innovative solutions we provide. As we share our journey and expertise on different podcast platforms, potential customers and curious listeners can gain a deeper understanding of what we stand for and how we strive to make a difference in the industry.
Get in touch with our team.